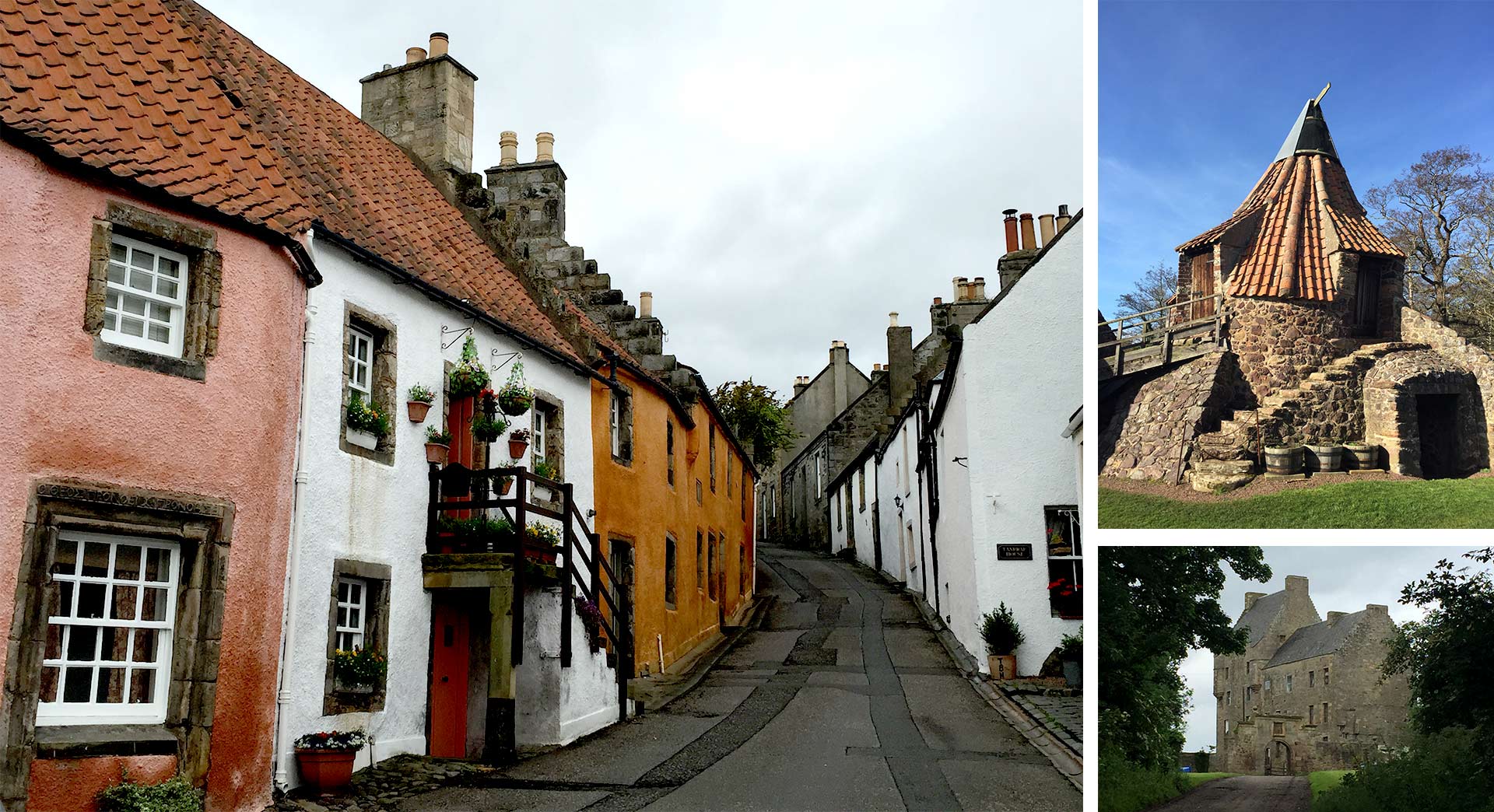 Follow in Jamie and Claire's footsteps! See for yourself Lallybroch, Castle Leoch, Wentworth Prison, the Duke of Sandringham's stately home and Claire's stunning herb garden – all in one day! With over 25 Outlander filming locations easily reachable within a day's tour from Edinburgh or Glasgow, let one of our specialised Eyes on Scotland driver-guides dramatically bring the Outlander story to life.
They have great insider knowledge and personal experience of meeting some of the biggest stars in the series, including the author, Diane Gabaldon. And if you have more time, we can organise tailor-made tours to see important Outlander locations further afield in the West of Scotland, Cairngorms and Inverness area.
PRICING
Our standard 2019 rates for guiding in English are below – these are intended to give you an indication of the cost of the services we provide.  Most tours are tailored to your individual requirements therefore please contact us for a detailed quotation.  Half days are up to 4 hours, full days are up to 8 hours.  Extra hours can be agreed for a supplement.
HALF DAY
Prices are a rough guide and will depend on the exact details of your trip. Please contact us below to get an exact quote.
FULL DAY
Prices are a rough guide and will depend on the exact details of your trip. Please contact us below to get an exact quote.
Terms & conditions
Our rates are based on a standard working day of 8 hours, however for longer days we may need to charge extra hours at £40 per hour for walking tours and £60 per hour for driver-guided tours depending on the overall length of day. Our maximum working day is 12 hours of which no more than 10 hours actual driving time
None of our fees include the price of entrance to sites or ferry crossings – we can advise clients of the pricing for these
Unless previously agreed, clients are responsible for the cost of the guide's meals and overnight expenses incurred during the course of a tour
For extended tours where our guides are required to stay away overnight we charge from £125 per night. We will provide an estimate for these expenses during the planning stage.
Ancestral Research and Itinerary Planning services will be charged at £40 per hour (minimum 2 hours). Please contact us for further details
A deposit of 50% will be due to confirm the booking with the remainder payable 8 weeks before the start of the tour
As we are all self employed tourist guides, we are unable to make refunds or move your booking to a later date if you are unable to travel. We suggest that you take out travel insurance at the time of booking to cover any eventual cancellation or postponement of your booking.
In extreme circumstances, we may be unable to complete confirmed bookings at short notice due to ill health but we will endeavour to find a replacement guide or driver guide for you. In the unlikely event that we are unsuccessful, we will provide a full refund of any monies you have paid for your tourist guide or driver guide.