Introduction to Lyn Brown
Welcome to my Eyes on Scotland page – read on to find out more about me and the tours I can offer you:
I was born and brought up in Glasgow and still live in Scotland's "central belt". Our family holidays were always spent in Scotland and from an early age, I grew to love this wonderful country, its history, scenery, and people. Following a successful career in education, I now have the opportunity, through tourist guiding, to share my passion for Scotland with visitors. Scotland has so much to offer and there really is something for everyone:
in the cities – architecture, history, culture, sports & leisure , shopping – whatever you are looking for, you will find it in our cities
out of town – unspoiled beaches (yes, in Scotland!), lochs and mountains, over 500 golf courses, medieval castles, outdoor activities – and truly wonderful scenery
to keep you going – traditional and modern dishes, fresh local ingredients, artisan products, craft beers – and over 1,000 different whiskies.
I work with individuals, small groups, coach parties, and corporate clients and as your guide, I will tailor a tour (in English or German) to your specific needs/interests. Examples of tours include:
City tours – walking or by car/coach, for example in Glasgow, Edinburgh and Stirling
day excursions – including private tours for cruise ship passengers looking for something different and a personalised approach
golf tours and visits to St Andrews, the "home of golf"
extended trips – normally of up to 4 days
conferences and corporate events
You will find me flexible and adaptable, friendly and approachable and with a good sense of humour, and my aim with all tours is to ensure that visitors have an enjoyable and memorable experience, delivered with energy and enthusiasm. "Tour Scotland with Lyn" to make your visit extra special.
---
Führungen auf Deutsch sind auch zur Verfügung, und als Ihre Führerin, würde ich Ihnen einen angenehmen und interessanten Aufenthalt in Schottland anbieten.
SPECIALIST TOURS
History, Castles, Golf, Food, Whisky
Go out and explore – wherever you are, find out what is in the area and try to include different types of activities so that you have the best possible experience of this wonderful country.
IF YOU ONLY DO
ONE THING

IN SCOTLAND
Visit one of Glasgow's museums (described in The Rough Guide to Glasgow as some of the best-financed and most imaginative museums and galleries in Britain) then take a trip to Falkirk to see the Falkirk Wheel and the Kelpies, each a master-piece of engineering and a fantastic visitor experience.
I grew to love this wonderful country, its history, scenery, and people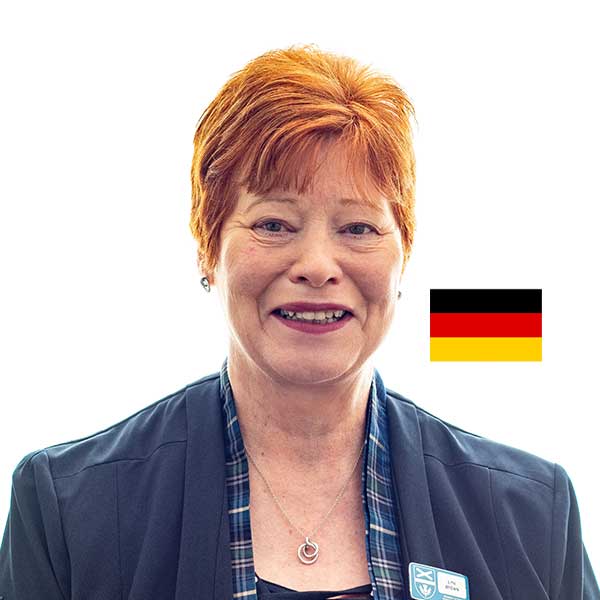 Lyn Brown is a wonderful, professional tour guide & extremely knowledgeable about all things Scotland. We have booked Lyn twice & highly recommend her as a tour guide. We have booked other private tours & Lyn is by far one of best we have ever had. Elizabeth R, Texas (June 2017)
From the very first contact we had with Lyn, she provided great guidance in the creation of our itinerary. We worked with her to tailor each stop in the trip to meet our needs and create a seamless day enjoying Glasgow and Falkirk. Lyn is in tune with her travel companions and provides a wonderful experience learning the cultures of Scotland. Michael F, Virginia ( May 2017)
Dear Lyn, Bruce and I wanted to thank you again for our wonderful days of Touring Scotland. We appreciated all of effort you took in advance planning to efficiently handle the logistics involved and the amount of details you shared with us as we drove along and in each locale. Having you drive us around instead of having to hire a car was one of the best decisions we made. Your knowledge is so vast and you're an excellent driver which made the trip infinitely more pleasant. Being history buffs it was delightful to be able to work with you in advance to customize our itinerary based on our parameters and thus get so much out of our brief stay in your beautiful country. Pamela T, Florida (Mar 2017)
We had a great day with Lyn, leaving Glasgow in the morning and taking in Stirling, Culross, the Falkirk Wheel, The Kelpies and the Forth Bridges before arriving at our hotel in Edinburgh in late afternoon. Lyn was very helpful in arranging the details before we arrived and was able to guide us through Stirling Castle and the other sights. An excellent way to combine sightseeing with getting between the two big Scottish cities. J Brenner, USA, Aug 2016
Thank you for a great few days – it was quite an eye-opener on your home city of Glasgow, and we remain impressed by your excellent presentation. D&P Horton, Chandlers Ford, May 2016
Lyn put me at ease immediately and was a perfect mix of professionalism and friendliness. Her itinerary allowed me to see all that I wanted to. A thoughtful guide, she even asked if I wanted to stop and get food to take back to my lodgings in a remote area. It was a perfect day! Cherish Sears, USA, Sep 2015
Lyn, thanks for making our tour so special – I think I can speak for everyone in the group on that count! Karen Kelly, USA, June 2015
---
You can read more client reviews on our Testimonials page and on Tripadvisor – Tour Scotland with Lyn