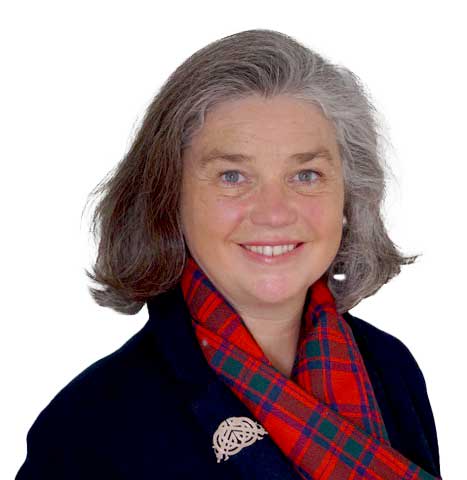 Introduction to Jenny McIntosh
Although I was born and brought up in the tropics I fell in love with the Scottish landscape and people after a childhood sailing holiday on the beautiful West Coast. When it came to choosing universities I was determined to study in Scotland and was lucky enough to spend four years at Edinburgh University, studying Ecology. Having lived nearly all my adult life in Scotland and raised my family here I am proud to call Scotland home. I have worked in education and hold a Geography teaching degree plus a Masters in Archaeology but now work solely as a Tourist Guide throughout
Scotland. Not only is it a privilege but also tremendous fun to show visitors all that Scotland has to offer from the great outdoors to cityscapes and culture.
De origen "Anglo-Argentina", soy bilingüe y con licencia para guiar en español. Cursé estudios de Ecología en la Universidad de Edimburgo y posteriormente viví dos años en Paris. Luego de casarme volví a Edimburgo donde me he dedicado a mi familia y trabajado durante los últimos veinte años. Me llena de orgullo reconocer Escocia como mi patria y para mí sería un gran placer poder guiarles por este maravilloso país.
SPECIALIST TOURS
History and Architecture, whisky, city and country walking tours
Make sure you pack a good waterproof and sunglasses; swimwear and thermals; your dancing shoes and hiking boots. An old fashioned paper map works well in remote places where reception is patchy!
IF YOU ONLY DO
ONE THING

IN SCOTLAND
Get out onto the water. Take a boat trip on a loch or a ferry across to one of Scotlands' many islands. This will give you a different perspective on the landscape and a chance to admire some of the best scenery and wildlife. For the more adventurous how about a canoe trip down the river Spey?
Scotland has always been my playground